(Editors Note: This post can be seen here at US-Bookies.com.
While there may not be any games currently being played in the NFL, there is no longer an off-season. The gap from the Super Bowl to the Week 1 Thursday night season-opener has never felt interminable in recent years as the league has done well to position itself as the can't-miss soap opera of the offseason.
Free agency movement? Check.
Off-season workouts? Check.
Draft-day drama? Check.
There is always something to break down, from depth charts to brewing quarterback controversies and everything in between.
With the conclusion of the NFL Draft last weekend, the real start of the NFL betting season began with the release of the over/under win totals for the 32 teams. Far from an exact science with four months of lag time until the Chicago Bears and the Green Bay Packers kick off the league's 100th season Sept. 5 at Soldier Field, there are places where those win totals might be skewed too high or too low, allowing bettors to find places to turn a quick profit.
And that is what this column is all about. The goal: To find the three teams from each conference whose win projection can be exploited in either direction in 2019.
(All odds courtesy FanDuel Sportsbook as of May 3)
New England Patriots – O/U 11 wins (-120/+102)
2018 Record: 11-5, 1st in AFC East
2018 Playoff Finish: Super Bowl champions
Much like death and taxes, the Patriots winning the AFC East has become standard fare. They were four games better than second-place Miami en route to their … checks notes … 10th consecutive division title and 16th in 18 years. What is remarkable about New England is its consistency over these two decades. Bill Belichick's team has won 10 games in all but one of those 18 seasons and cleared 11 wins In the previous eight before "slumping" to 11-5 in 2018.
The success is equal parts Patriots proficiency and AFC East rivals deficiency. In their current decade run ruling the roost the AFC East has provided a wild card on only four occasions, and in the case of the last two – Buffalo in 2017 and Miami in 2016 – they were both No. 6 seeds who were one and done in the wild-card round.
This season figures to be more of the same dominance as 2018, with both the Dolphins and New York Jets with new coaches. In the case of the Jets, though, Adam Gase opted to move up the Atlantic seaboard from Miami. Everyone in this division has a second-year quarterback all trying to beat Tom Brady – Sam Darnold (Jets), Josh Allen (Bills), and Josh Rosen (Dolphins).
Spoiler alert: It will not happen if the 42-year-old Brady (age by Week 1) stays healthy and upright. Additionally, the AFC East faces the NFC East, and aside from the Dallas Cowboys, no one in that division looks like they can match up with the Patriots on paper.
Yes, Rob Gronkowski retiring does leave a large hole to fill at tight end, and no one is going to instantly replace an eventual Hall of Famer. But the "do your job" mentality Belichick has ingrained in Foxborough means someone will get those receptions and yards.
And for the second time in as many years, the Patriots found a potential winning lottery ticket at the end of the first round in wide receiver N'Keal Harry, who had back-to-back 1,000-yard seasons at Arizona State, Herm Edwards as his coach last year and now tutelage from Brady and Julian Edelman.
The Pick: New England OVER 11 wins
(Tom Brady photo courtesy Matthew Emmons/USA TODAY)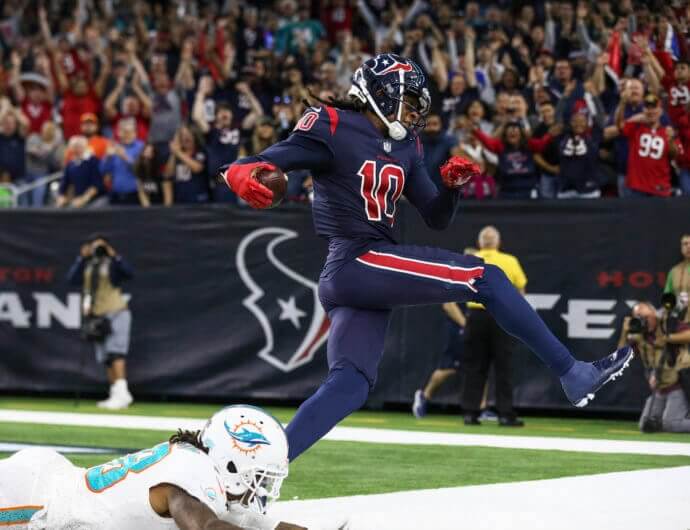 Houston Texans – O/U 8.5 wins (+108/-130)
2018 Record: 11-5 AFC South champions
2018 Playoffs: Lost to Indianapolis Colts in wild-card round
The Texans are interesting given oddsmakers expect them to regress at least two or three games from 2018. The departures of starting safeties Tyronn Mathieu and Kareem Jackson along with the retirement of Andre Hal means there are glaring holes to be filled in the secondary since there is only so much J.J. Watt can do.
Houston will be at full strength offensively as Will Fuller returns after missing most of last season with a torn ACL, and when he and DeAndre Hopkins are on the field together, opponents cannot roll their coverage in any one direction consistently as opposed to shadowing Hopkins – who still hooked up with DeShaun Watson for 115 receptions, 1,572 yards and 11 TDs.
The biggest problem for the Texans is the relative strength of their AFC South peers. It is fair to see the Colts overtook them last year between their strong regular-season close and wild-card victory in Houston. Jacksonville can no longer blame Blake Bortles for its offensive struggles as Super Bowl champion Nick Foles arrives from Philadelphia to take some off the burden off running back Leonard Fournette.
And in the case of the Tennessee Titans, it is not that they are very good or even a playoff-bound team, but they are easily capable of beating anyone on any given Sunday and will be a tough out twice this season. When a division is this balanced, one injury or one tough loss can completely sidetrack a team's season. The hedge is it happens to the Texans.
The Pick: Texans UNDER 8.5 wins (-130)
(DeAndre Hopkins photo courtesy Troy Taormina/USA TODAY Sports)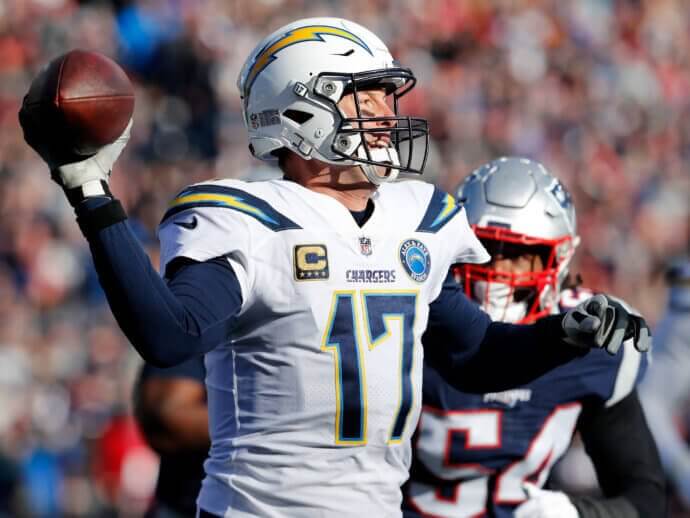 Los Angeles Chargers – O/U 9.5 wins (-110/-110)
2018 Record: 12-4, 2nd in AFC West
2018 Playoffs: Lost to New England in divisional round
With the Kansas City Chiefs off the board due to the recent allegations surrounding wide receiver Tyreek Hill, the Chargers become the de facto play in the AFC West as a better value than trying to figure out the Oakland Raiders (6.5) and Denver Broncos (7). Despite playing in the bandbox (by NFL standards) known as StubHub Center for a third straight year, the Chargers have the look of a team who knows its championship window is make-or-break in 2019.
Offensively, Philip Rivers continues to defy time and is surrounded by a very competent set of skill players in running back Melvin Gordon, wide receivers Keenan Allen and Mike Williams, and tight end Hunter Henry, who missed all of the regular season with a torn ACL. Rivers barely missed matching his career high for TD passes, and another solid season could see him reach 400 for his career.
The Chargers irregular defense with linebacker-sized safeties closing down opponents was a revelation until the Patriots picked it apart in the AFC title game. Still, there are few teams capable of doing what New England can do, and that works in Los Angeles' favor.
Also advantageous: the Chargers avoid the Patriots in the regular season and their breakout of games versus NFC North opponents. The Chargers will host Green Bay and Minnesota and go to Chicago in late October, a huge break compared to a potential December visit to the frigid "Windy City."
It would not be surprising to see Hill suspended for multiple games whenever the NFL chooses to hand down disciplinary action, leaving the Chiefs without two key players compared to last season as Kareem Hunt has already moved to Cleveland. Kansas City's loss will be Los Angeles' gain, and the Chargers should be able to reach at least double digits in winning the AFC West.
The pick: Chargers OVER 9.5 wins (-110)
(Philip Rivers photo courtesy David Butler II/USA TODAY Sports)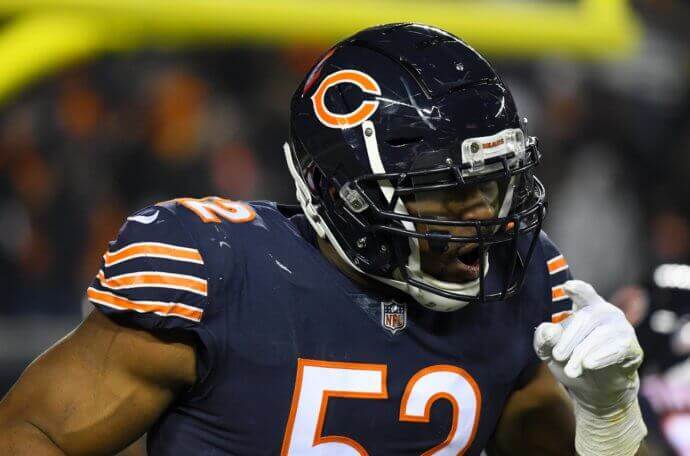 Chicago Bears – O/U 9.5 wins (+115/-135)
2018 record: 12-4 NFC North champions
2018 playoffs: Lost to Philadelphia in wild-card round
Based on the over/under total, Las Vegas believes the Bears will regress to the mean in 2019. There is some evidence in that favor, most notably being Green Bay Packers quarterback Aaron Rodgers likely will not miss a substantial chunk of time due to injury. Also, the Bears will be playing the other three NFC division winners in 2019 – though they did beat the Los Angeles Rams in 2018.
There are still concerns about quarterback Mitch Trubisky not having a true No. 1 receiver – running back Tarik Cohen was the team's top pass catcher in 2018, and with last year's leading rusher Jordan Howard dealt to Philadelphia, Cohen is going to have a much larger role in the offense – think a smaller version of Le'Veon Bell. Even with those question marks, Trubisky took is poised to take another leap forward in 2019 after making tremendous strides in his second year under center.
But defense has long been the Bears' calling card, and that will be the case once more with Khalil Mack terrorizing opposing QBs. Mack was worth the high price Chicago sent Oakland as he finished with 12.5 sacks and another 10 tackles for loss despite missing two games. Rookie linebacker Roquan Smith seamlessly fit in after his summer holdout and finished with a team-high 121 tackles.
The NFC North will be difficult with Green Bay and Minnesota, but Detroit appears to be trending downward as Matt Patricia continues to clear out the deadwood in his second season in charge. The Bears will not sneak up on anyone, though they also likely will not have a kicker thumping field goals and extra points off the goal posts and crossbar to give the city angst.
Even Rodgers' return should not be enough to prevent Chicago from posting back-to-back 10-win seasons for the first time since 2005-06.
The Pick: Bears OVER 9.5 wins (+115)
(Khalil Mack photo courtesy Mike Dinovo/USA TODAY Sports)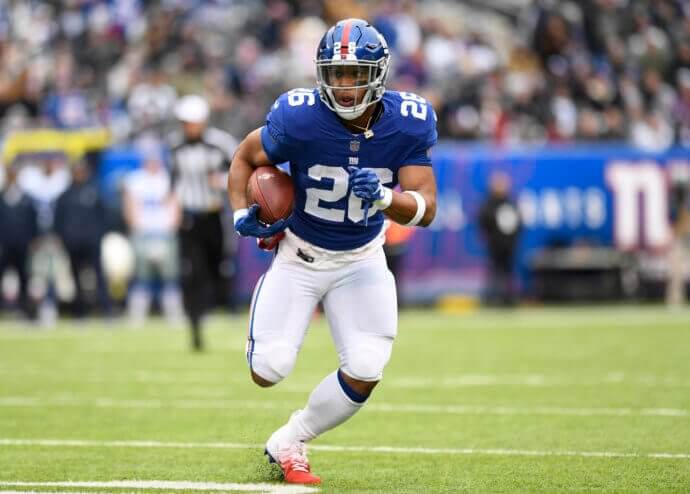 New York Giants – O/U 6 wins (+100/-120)
2018 Record: 5-11, 4th in NFC East
The Giants were the talk of the NFL Draft, but for all the wrong reasons as general manager Dave Gettleman surprised many by taking Daniel Jones from Duke with the sixth overall pick. Edge rushers Josh Allen and Ed Oliver were still available, and the Giants also had a second first-round pick at No. 17 they could have maneuvered up or down to get Jones since he was expected to be available there.
But even beyond the selection of Jones, the Giants have plenty of question marks – the biggest being who will replace Odell Beckham Jr.'s production at wide receiver. Label him a malcontent all you want, but there was no denying Beckham is an elite wide receiver and still finished with 77 receptions for 1,052 yards and 12 TDs despite missing four games.
New York has an absolute stud running back in Saquon Barkley, who was the bellcow of the offense with 2,028 total yards rushing and receiving as a rookie. New York's defense, though, was wildly inconsistent as it allowed 25 or more points in eight games. And don't let the eight single-digit losses fool you, the Giants scored last in four of them to make the final score respectable.
With the Redskins unsettled at quarterback, there is a chance the Giants could find themselves in third in the NFC East behind Dallas and Philadelphia. But if either Manning or Barkley get hurt, this season could tailspin and get ugly very quickly as there are few stars on this team beyond their two offensive playmakers.
The Pick: UNDER 6 wins (-120)
(Saquon Barkley photo courtesy Danielle Parhizkaran/NorthJersey.com via USA TODAY NETWORK)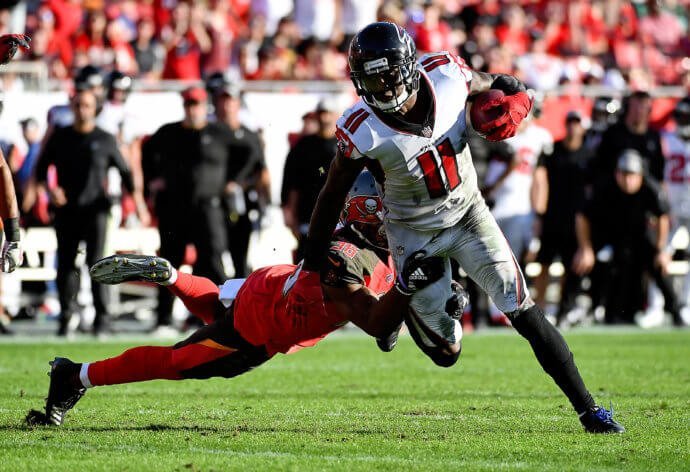 Atlanta Falcons – O/U 8.5 wins (-110/-110)
2018 Recrd: 7-9, Tied-2nd NFC South
The Falcons closed last season on a three-game winning streak, which was nice, but also comes across as fool's gold. The first victory came against the worst team in the NFL in 2018 (Arizona) and the other two came against division rivals (Carolina and Tampa Bay) with nothing at stake.
That is not to say Matt Ryan cannot still sling the ball. To the contrary, he finished just shy of 5,000 yards. Julio Jones is still a beast at wide receiver and ably supported by wideouts Mohamed Sanu and Calvin Ridley as well as tight end Austin Hooper.
But the issue for Atlanta is on the other side of the ball. The 423 points allowed were the fourth-most in the NFC, and the Falcons also failed to punch above their weight – all seven wins came against sub-.500 teams. Getting starting safeties Keanu Neal and Ricardo Allen back after both suffered season-ending injuries in 2018 will make a difference, but it does not to be noticeable in a division where New Orleans is still the head of the class and Carolina is still a potential playoff team.
Atlanta also got no favors when it came to its interconference schedule versus AFC South teams as it faces division winner Houston and wild-card runner-up Indianapolis on the road. The Falcons do get the Rams and Seahawks at home in consecutive weeks in October, and those games could go a long way in determining if Atlanta are a bonafide wild-card team or struggling to reach .500 at season's end.
The Pick – UNDER 8.5 wins (-110)
(Julio Jones photo courtesy Jasen Vinlove/USA TODAY Sports)