(Editor's Note: This article can be seen on the US-Bookies.com website)
As one NBA season ends, the next is already being scrutinized for new favorites and trends. A new champion, the Toronto Raptors, was crowned, and with the NBA Draft having taken place Thursday, a summer of movement has begun. While these futures win totals will fluctuate when the free agency period officially begins June 30, people can find undervalue and overvalue team win totals by reading the tea leaves of deals and draft picks made.
That is what this article is for, to find the best five teams in either direction of their win total before they get altered following the free agent frenzy.
UNDERVALUED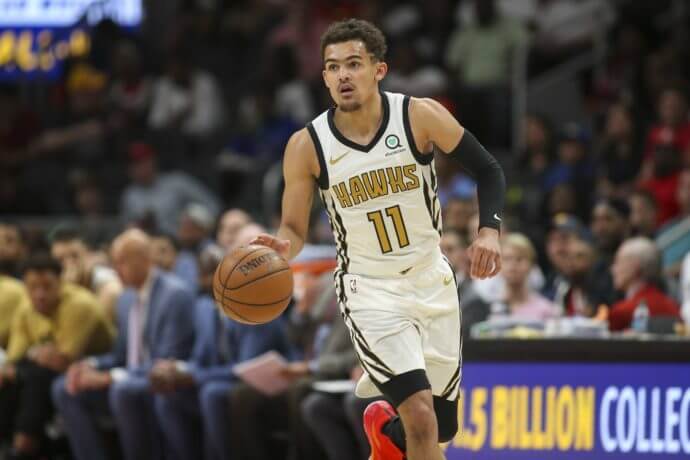 Atlanta Hawks – Over/Under Win Total: 32.5 wins (-114 over/-102 under). The Hawks aggressively sought out another cornerstone to their team to join Trae Young, and trading up to the No. 4 pick to select 3-and-D De'Andre Hunter from NCAA Tournament champion Virginia confirmed they are on an upward trajectory. With the No. 10 pick they got last year in dealing Luka Doncic – a whole other argument for a whole other day – to the Dallas Mavericks, Atlanta added to its length and versatility with Duke's Cam Reddish, though unlocking his offensive potential – he averaged 13.5 points but shot only 35.6 percent – will be a challenge for coach Lloyd Pierce.
The Hawks now have a young core of Young, Hunter, Reddish, Kevin Huerter, John Collins, Taurean Prince, and Dewayne Dedmon. If they can convince Vince Carter to return and play his final NBA season in Atlanta as a mentor, the Hawks have the potential to go from worst to first in the soft Southeast Division.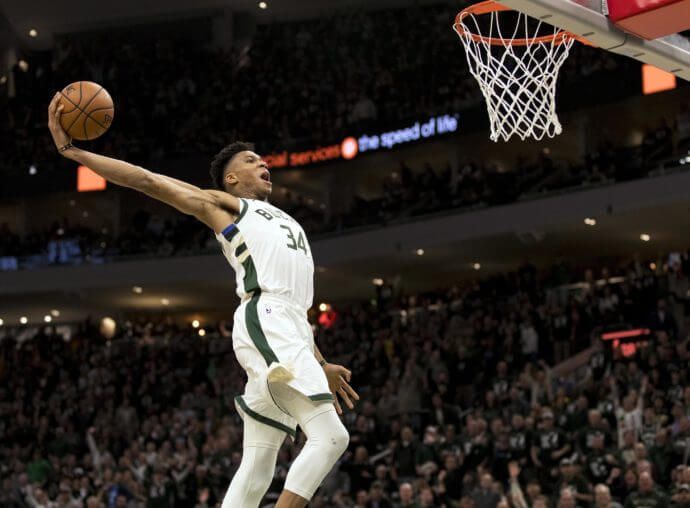 Milwaukee Bucks – Over/Under Win Total: 55.5 wins (-115 over/-105 under). I'm sure you're asking yourself, "How could the team with the best record in the 2018-19 season be undervalued?" Well, while there is some concern about whether the Bucks will re-sign Khris Middleton, the Bucks did make moves to clear up cap space to re-sign both him and center Brook Lopez.
Milwaukee will also enter the season with an enormous chip on its shoulder after finishing two wins shy of the NBA Finals and grabbing a 2-0 series lead in the conference finals versus eventual champion Toronto. Scary as it sounds, Giannis Antetokounmpo can still improve as a player, and another season digesting Mike Budenholzer's offense means the Bucks can be more efficient on that end of the court. Back-to-back 60-win seasons are definitely in play in Cream City.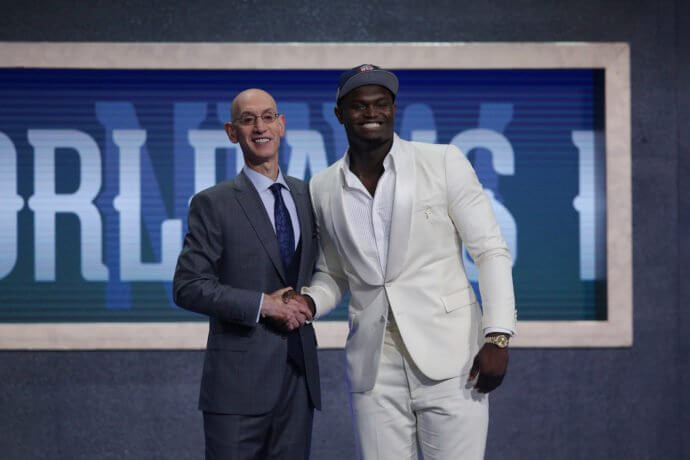 New Orleans Pelicans – Over/Under Win Total: 35.5 wins (-110 over/-110 under). Not only did the Pelicans win the NBA Draft lottery and wisely use the No. 1 pick on potential generational talent Zion Williamson, they continued to spin gold from straw following the agreed-upon deal that will send Anthony Davis to the Los Angeles Lakers for a haul of players and draft picks that has them well set both short and long-term.
There is little argument the West is the better conference, but the Pelicans improving on their 2018-19 win total by three victories is realistic considering they will at least be a cut above Phoenix, Minnesota, and Memphis. New Orleans did not get castoffs from the Lakers in Brandon Ingram, Lonzo Ball, and Josh Hart, and GM David Griffin promptly spun the No. 4 overall pick they threw in to Atlanta for Jaxson Hayes at No. 8 and Nickeil Alexander-Walker at No. 17.
The Pelicans have someone to run the offense in Jrue Holiday, and if (admittedly a big if) Ball can develop a consistent jump shot to go with his above-average passing skills, the Pelicans suddenly look like a young, deep, athletic team with potential to reach .500.
OVERVALUED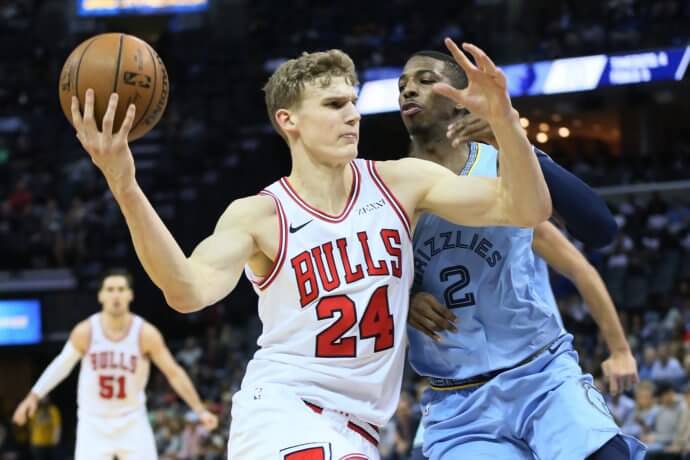 Chicago Bulls – Over/Under Win Total: 27.5 wins (-115 over/-105 under). For the third straight year, the Bulls drafted in the No. 7 slot, which is essentially the NBA's version of purgatory. Yes you get a good player (i.e., Lauri Markkanen, their 2017 pick who averaged 18.7 points in just 52 games and 2018 pick Wendell Carter, who averaged 10.3 points and 7.0 rebounds in 44 games as a rookie), but you do not get a franchise cornerstone.
By falling out of the top four spots in this year's lottery, that again happened to the Bulls on Thursday night in taking Coby White from North Carolina. A good player? Sure, he averaged 16.1 points and 4.1 assists. But a game-changer? No, not really.
And the other issue for the Bulls continues to be an avoidance by players who do not consider Chicago to be an attractive destination in free agency. There are multiple reasons, but the culture created under the current regime of coach Jim Boylen, general manager Gar Forman and vice president John Paxson is near or at the top of the list. There are many contenders for the bottom of the Eastern Conference, but the Bulls repeating as a 60-loss team seems more likely than them challenging to reach 30 wins.
Los Angeles Lakers – Over/Under Win Total: 54.5 wins (-105 over/-115 under). Call it "LeBron and The Brow," call it "LeBrow," call it whatever you like, but while the acquisition of Anthony Davis shakes up the NBA perhaps as much as Kevin Durant and Klay Thompson's expected absences due to injury for the 2019-20 season, there is way, way, WAY too much hype and undue expectations for the Lakers to improve their win total by 18 to clear this number.
First, there is the fact LeBron James is coming off an injury for the first time in his storied career. Now rephrase the sentence more accurately: 34-year-old LeBron James, he of the 1,437 games played when including the postseason, is coming off a significant injury for the first time in his storied career. Yes, underestimate James at your own potential as he enters Season Two in Los Angeles, but at what price glory? Or in this case, at what price AD?
If the NBA were a 3-on-3 league, most people would like the Lakers' chances with James, Davis, and Kyle Kuzma. However, they still play 5-on-5, and the price the Lakers paid to pry Davis out of the Big Easy leaves them short in terms of overall personnel. Yes, the Lakers will land a marquee free agent, and it may even be newly minted champion and two-time NBA Finals MVP Kawhi Leonard, but as the Warriors showed in losing to Leonard's Raptors – even a championship caliber team needs quality depth.
And how James pitches playing for the Lakers to potential free agents is going to be intriguing. For all his worldly talents, the West is still a meat grinder compared to the East, and veteran players who may be willing to take the league minimum based on service or a mid-level exception to join the Lakers will have to think really hard about whether this team harbors legitimate championship hopes.
Is Los Angeles a playoff team if that trio stays healthy? Probably. Is it a Pacific Division-winning team – because 55 wins would have won three of the six divisions in 2018-19 and finished two games behind Golden State? That feels not as likely.
(NBA trophies photo courtesy John E. Sokolowski/USA TODAY Sports)